The Electrical Experts
Experience Backed By Financial Strength and Integrity
As experts in electrical materials management CNW Energy provides quality, cost-effective solutions backed by domain knowledge and excellent service. Our major project experience is unparalleled and our excellence in project delivery has seen some of the world's biggest companies grant us blanket supply agreements for the entire electrical category. Under these agreements we standardise supply across countries, projects and sites.

As part of BGW Group, a diversified Australian wholesaling business, CNW has the financial strength and global buying power to manage materials for the world's largest projects. This strength and scale does not come at the cost of agility - CNW's flat management structure enables us to rapidly respond to client and project requirements.
Integrity is the key to consistently achieving responsible and sustainable project outcomes. CNW is proud of our reputation for being fair and reliable and we value our long-term relationships with suppliers, customers, staff and communities.
A Rich Australian History
Proudly Supporting Australian Industry and Community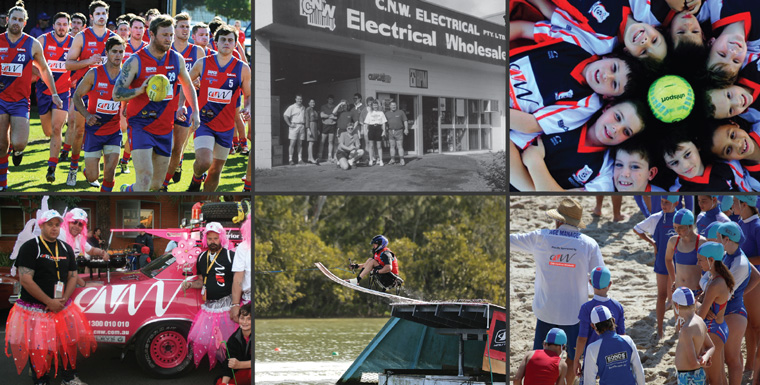 From humble beginnings with one store in 1952 CNW has continued to develop and diversify. Private ownership and responsive decision making has allowed us to enjoy strong and consistent growth and we have remained 100% Australian family owned and operated. We attribute this continued success to our philosophy of supporting our people and customers, and providing quality products and services.
CNW supports Australian businesses, suppliers and people through our national supply chain and 'Australian first' procurement policy. Our preference is to source goods from Australian based manufacturers and suppliers in the first instance, subject to availability, quality and the timeline requirements of the project. This also assists our international suppliers and customers to maximise their Australian industry participation, creates more local jobs, and contributes significantly to the Australian economy.
We are passionate about creating local jobs and giving back to the communities we live and work in. CNW supports local contractors, businesses, clubs, sports and community groups. Whether it's jerseys for local sports teams, supporting future Olympians, improving the environment, fundraising for charities, or delivering goods for disaster relief, we are there to help when it really counts.
Your Global Partner and Local Expert
World's Best Project Materials Management Solutions
CNW has the warehousing and supply chain systems and technical knowledge to develop a tailored solution to meet your specific goals, whether that's simplifying procurement, automating production or controlling energy use. We also have extensive experience working with EPC contractors, engineering companies and joint venture partners on some of the world's largest industrial, commercial, and infrastructure projects.
We have developed close partnerships with the world's leading manufacturers to ensure reliable supply, an extensive range of quality products, and the best pricing. We are able to proactively identify obsolescence risks and provide expert substitution without compromising quality or the project schedule.
Our Asian-based business, Wholesale Electric Asia (WEA), combines the local expertise and global resources of three of the world's largest independent electrical wholesalers: R&M Electrical Group Ltd (UK); Wholesale Electric Supply Co (USA); and CNW Electrical (AU). This allows us to bring the world's best solutions to our customers with the financial backing of combined revenues in excess of USD$1 billion collectively.
Our offices in Singapore, Thailand, the Philippines, Korea and Indonesia provide a regional footprint for projects throughout South East Asia, including major shipyards.